Opportunities to expand your abilities at Quality Sew N Vac!

---
The Stitcher's Garden Quilt Block of the Month
Each month we will be making one block of this quilt. You will get detailed instructions and help in a "hands on" sewing environment. Each class will be offered at least twice a month on different days to accommodate your busy schedule. Registering is essential as space is limited.
We will find beautiful uses for those "extra" stitches your machine came with and use some of the techniques the special feet make easier.
Blocks will be repeated as needed for new students. Join us for the next block and we will offer other opportunities for these earlier blocks.
Call for times and dates of our next classes!
Other dates can be added if you are interested and these dates are not going to work for you. Please e-mail me at
qsnveducator.marie@yahoo.com
.
Please call or email Marie to reserve your spot as room is limited!
---
---
---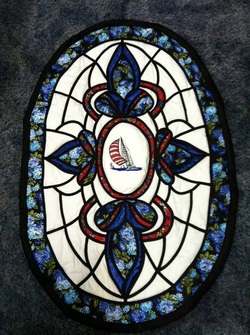 Stained Glass Window Quilt– We will make a wall hanging that can be adapted for any season or holiday. This class will look at using bias tape for the "leading" and a double needle. Even if you do not have an embroidery machine, you can make this quilt. I will stitch out the center for you for a small fee. Next class is scheduled when we have 3 students signed up. This class is $80 with pattern included.





---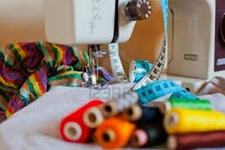 Beginning Garment Sewing- We will look at using a pattern to correctly lay out fabric and pattern pieces, use basic sewing techniques such as seaming, hemming, pressing and other required techniques such as zipper, ties or buttons for approved easy and quick pattern. This class will meet for 3 weeks and will be scheduled as students sign-up. Class fee is $60.



---
Handbag- This class will create a handbag with many pockets, a hidden pocket and a zippered main compartment. It also will hold your cell phone and a water bottle on the outside. This class will require prepayment to receive the pattern to cut out before class. If you need help with layout and cutting I will meet with you for an extra class time with an added charge. This class will meet for two weeks. Class fee is $50 with pattern included.



Stabilizers-what to use and when for machine embroidery- we will look at different weights and types of stabilizers available and which one works best for different applications. Class fee is $15.


---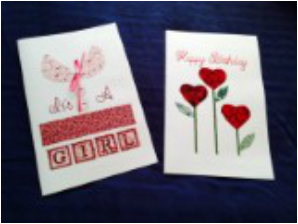 Machine embroidery Greeting Cards– Learn to use your embroidery machine to make unique greeting cards for all occasions.
Class fee will be $15 with designs available for purchase.



---
---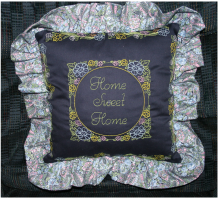 Machine embroidery- embroidering larger areas requiring more than one hooping. This class will focus on placement of multiple designs in one project. We will make either a place mat or a pillow. You will receive a CD from our selection (15-20 designs valued at $35 or more) included in class fee. Cost is $45.



---









Strip Piecing Table Runner- In this class we will be making a simple yet beautiful table runner. Strip piecing in a fairly easy into to a type of quilting that can be used for many household decorations. Fee for this class including pattern and instructions is $60.



---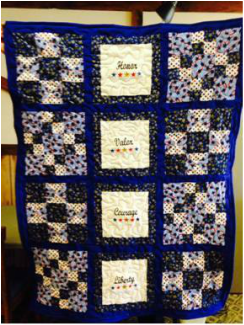 Intro to Basic Quilt Block Charity- This class will teach you how to make several different basic quilt blocks. We will then put the blocks together to donate to the VA hospital in Iron Mountain or the Salvation Army. A $15 donation to cover batting, backing and binding of charity quilts would be appreciated.


---
All of the classes offered can be repeated or even offered at other times and dates if there is enough interest. Please contact Marie at qsnveducator.marie@yahoo.com with any questions, requests, or to register. Because we want adequate time with each student, class size is very limited!